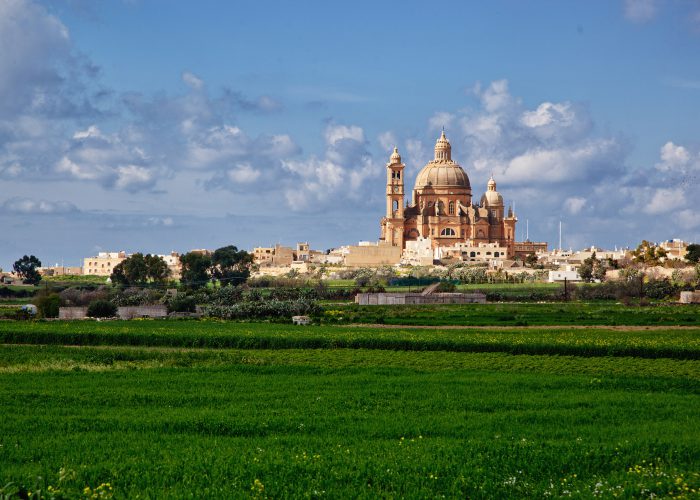 Boasting one of the largest domes in the world, the Xewkija rotunda, dedicated to St. John the Baptist is the largest church in Gozo. The colossal church is an exceedingly large circular structure in white local limestone, its elegant dome supported by eight columns representing the eight beatitudes.
The opulent circular interior is covered in frescoes, stained glass, and fine sculpture and has an elaborately patterned Carrara marble polished floor; the altar also carved from precious marble. A set of paintings depicting scenes from the life of St. John the Baptist adorn the walls of its six side chapels.
The church, built by local masons and skilled craftsmen, and completed in 1971, was modelled after Venice's Santa Maria della Salute. It was paid by the villagers and built in replacement of an older church, due to the need for a larger one to accommodate an ever growing population. The old church was carefully dismantled, and its best parts where reassembled next to the new church serving as a Museum of Sculpture. Within the museum, visitors can take an elevator up to the dome and enjoy spectacular panoramic views of Gozo and the Northern part of Malta.
Every 24th of June, the parish celebrates liturgical feast of the nativity of St. John the Baptist while the external festivities are celebrated on the nearest Sunday.