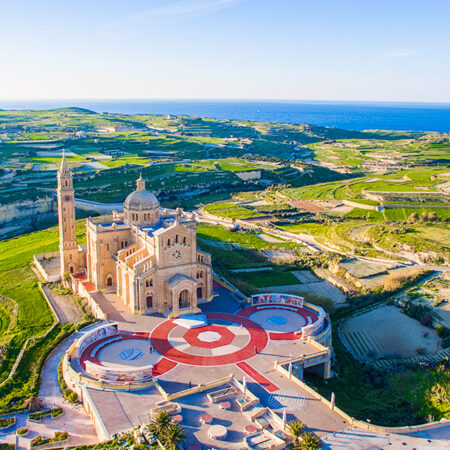 Today's monumental shrine to Our Lady of Ta' Pinu was built between 1920 and 1931. Its origins trace back to June 1883 when a peasant woman, from the village of Għarb, Karmni Grima, was alleged to have heard the voice of the Virgin Mary in the small chapel that then occupied the site. It quickly became a centre of pilgrimage as many miracles and acts of grace were said to be manifested there, including saving Gozo from the plague which had hit Malta at the time. The locals therefore decided to build a larger and more magnificent church on the site in honour of the Blessed Virgin.
The original 16th century chapel was fully integrated into the new church, behind the altar, and still contains the painting of the Assumption to Heaven of Our Lady, from which the voice is said to have spoken to Karmni Grima. Inside one can admire the impressive architecture and witness the devotion of the people, expressed through items like casts, photos, written stories, baby grows, among others, that decorate the walls of the two rooms on either side of the altar, as offerings of gratitude for miracles and intercessions of Our Lady of Ta' Pinu
On the main road leading to the basilica, five niches containing frescoes were placed. These are referred to as The Pilgrim's Way, as the devoted can walk from one to the other stopping to meditate along the way. Outside the church, on the parvis, one can find beautifully crafted mosaic pieces on either side, while opposite the church, running up Għammar Hill, is a series of 14 marble statues representing the Stations of the Cross (Via Crucis).